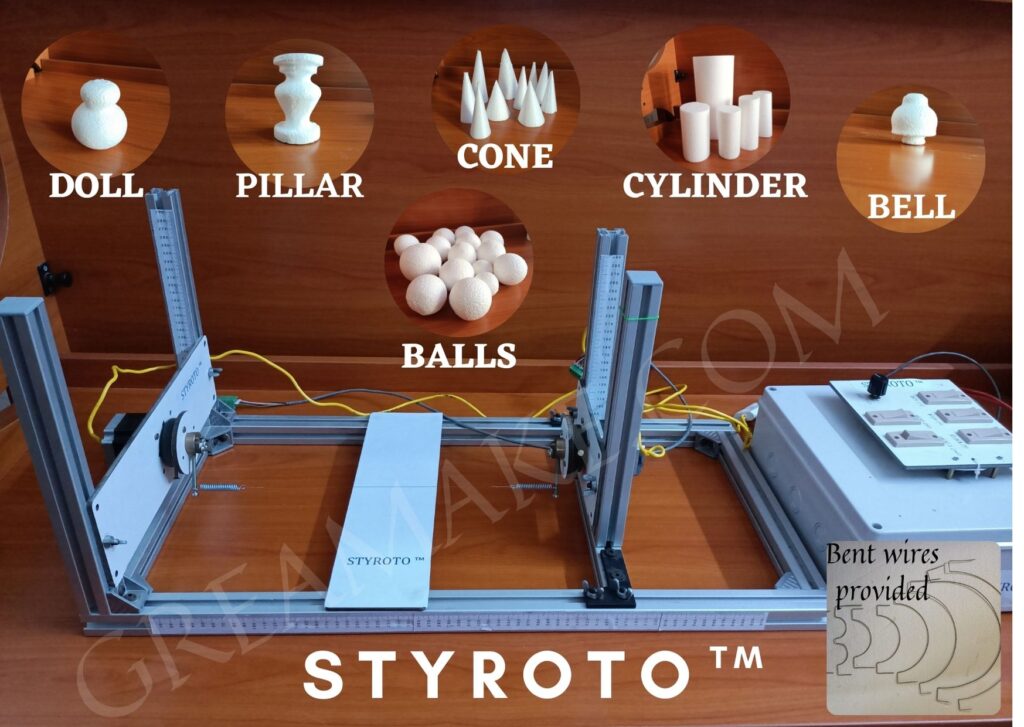 Cut any revolved shape in EPS/Styrofoam/Thermocol (Cylinder, Cone, Ball, Pillar, SnowMan, Bell etc)
 Cylinder/Cone: Length, Diameter : Variable from 25 mm – 500 mm. Ball diameter: Adjustable from 25 mm to 500 mm.
Precise stepper motor control for very slow and precise rpm control.
Control Panel for automatic and easy operation.
Easy and quick changeover from one part (cylinder , cone, ball, pillar etc), size ( 25 mm to 500 mm)  to another part, size.
Pre- bent NiCr wires for various ball sizes ( 25, 40, 50, 75, 100, 150 mm dia)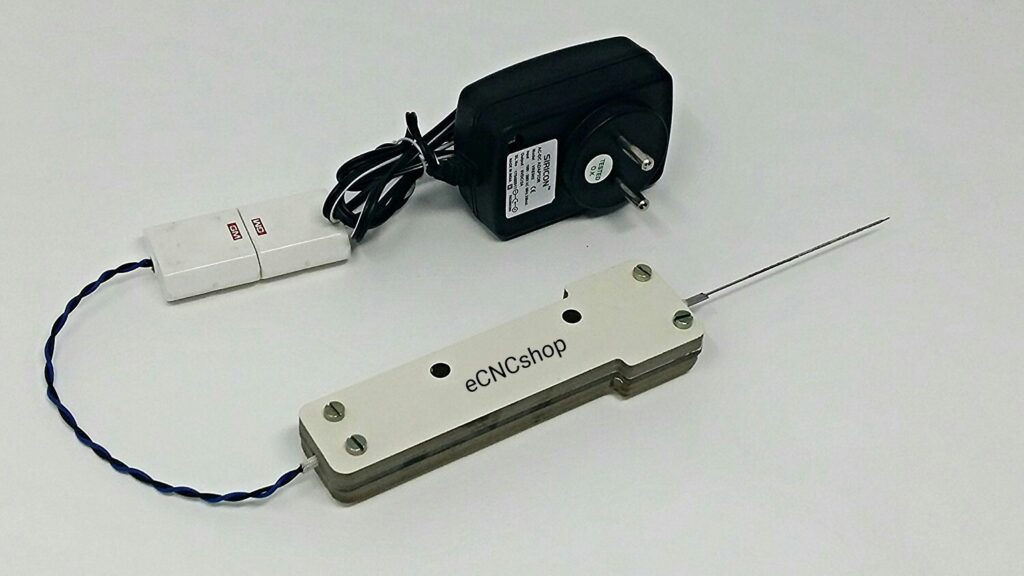 This hand held tool is very convenient to make holes and inner cutouts on styrofoam / EPS Thermocol.
Hand held tool for high speed cutting speed 800mm/min on high density EPS thermocol.
For model making and crafting as hobby on Thermocol. Also recommended for mounting on CNC machine.
Very low DC voltage 6V 2A power supply.
Cutting length of knife: 76mm (3 inch)
Diameter of the knife: 1.5 mm.
MULTI PURPOSE FOAM STYLER®
Cuts thermocol/ styrofoam to any desired shape.
For model making and crafting as hobby on thermocol , styrofoam
Can be used as a hand-held tool or can be fixed to the stand provided with the machine.
The design can be drawn on thermocol / styrofoam directly or glued to it and cutting can be done.
Mounted tool can also be used as hand held tool or as a bow cutter.
To make it a bow cutter, the nichrome wire is fixed to the U-plate/bow cutter , the adapter is plugged in, and cutting is done by holding the bow/U-plate in the hand.
In this case, the thermocol is kept stationary and the bow is moved in the desired direction.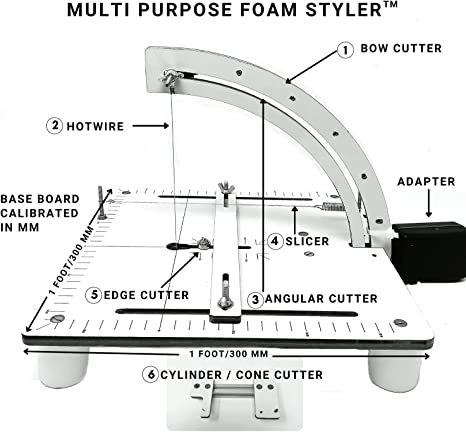 Instructional Video for Multi Purpose Foam Styler®
Tailor Styrofoam to any Shape/Size using Multi Purpose Foam Styler®